Connect physical servers, virtual servers, and other equipment over a private and secure network or networks. Our Local Network is an ideal solution for quickly and easily creating simple or complex infrastructures from your Selectel services.
Private Networks
Scalable Projects
Multi-Service Infrastructures
Enhanced Security
Data Center Network
Durable Connections
Private Networks
Isolate mission-critical servers in a private VLAN. By preventing public network access, your data remains secure.
Scalable Projects
Deploy up to 4000 private VLANs with Q-in-Q technology to isolate server groups, monitor access, and protect your data.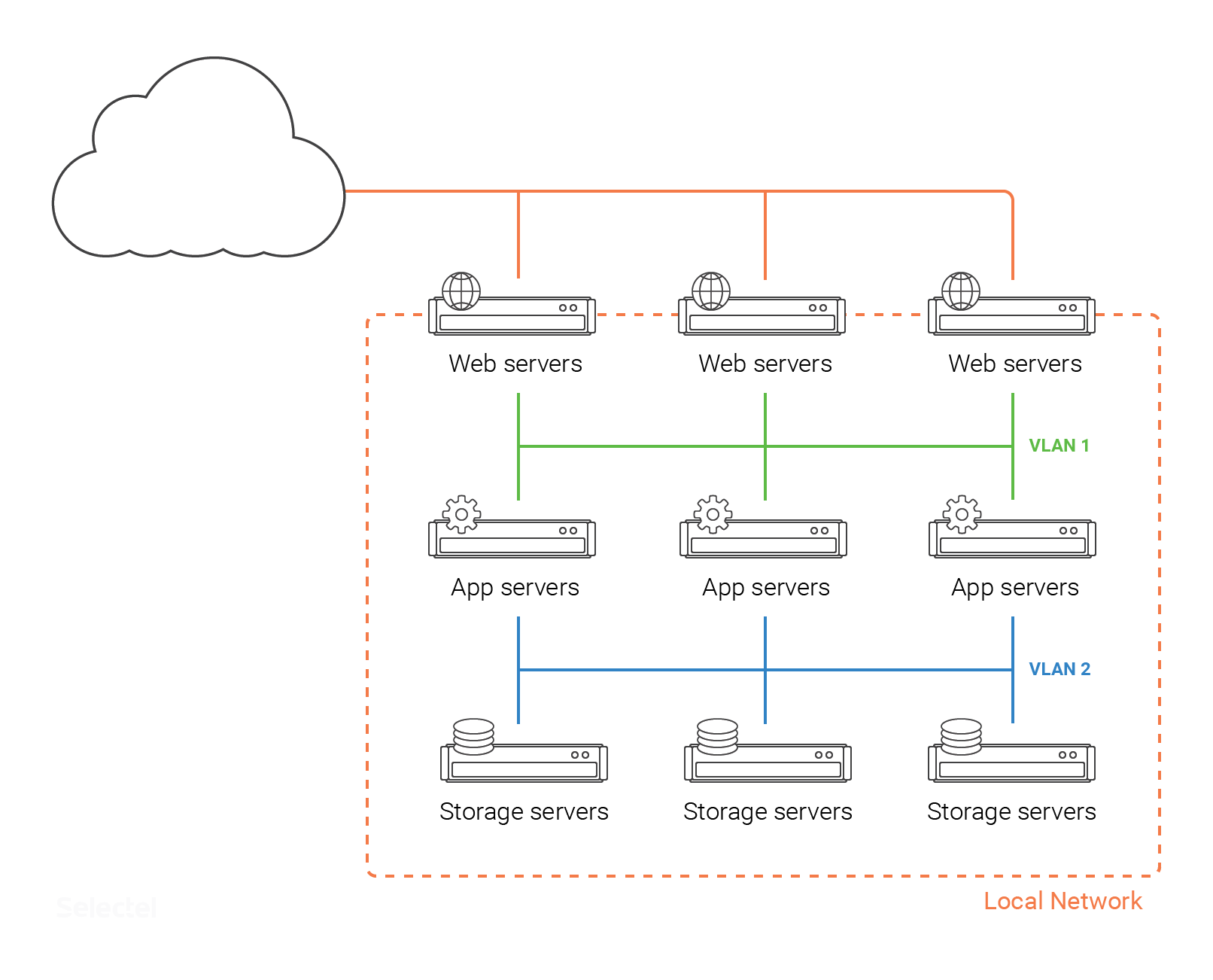 Multi-Service Infrastructures
Configure systems based on your business requirements. Integrate all of your Selectel services in your infrastructure: Dedicated Servers, Cloud powered by VMware, VPC, network equipment, and more.
Enhanced Security
For maximum protection, you can use proxy servers and firewalls to limit network access.
Data Center Network
Host backup infrastructures in geographically distributed data centers.
Durable Connections
With our VLAN to Outsider Operator service, you can plug in to an existing enterprise network.
Technical Details
Equipment from the world's leading manufacturers: Juniper Networks and Brocade.
Modern high-performance switches with 1/10/40GE ports. Local network connections use MC-LAG to reduce downtime. 10GBase optic ports instead of standard copper connections reduce network lag 50-70x.
Local network bandwidth within a data center: 2.8 Tbps. Local network bandwidth between data centers: 160 Gbps (with possible 2x increase).
Redundant dedicated channel between St. Petersburg and Moscow. We use different fiber-optic cables to back up the St. Petersburg — Moscow path. The St. Petersburg — Moscow local network redundancy is implemented using Multihoming VPLS.